Kitesurfing in the Caribbean
Our Kitesurfing school on Union island in the Caribbean offers the best service for advanced Kitesurfers looking for the best Kitesurfing holiday or for the beginners looking to learn how to Kitesurf for the first time in the Caribbean with amazing weather conditions with shallow and clear water.
Book your Kiteboarding holiday with the JT Pro Center and find out more about How to Get to the Grenadines, the best Kitesurfing destination and spot from December to July to kitesurf the Caribbean.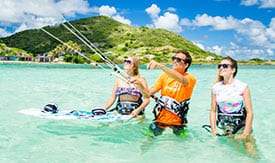 Learn Kitesurfing in the Caribbean
Our team of instructors will be happy to give you the experience of a lifetime by teaching you how to kitesurf on one of the most beautiful kitesurfing spots in the world.
Learn about our beginner packages.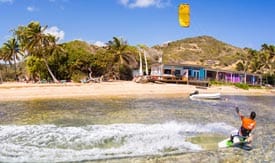 Caribbean Kitesurf Holiday
If you are looking for the perfect Kitesurfing holiday, the JT Pro Center offers the best accommodation with our partner hotel located right on the Kitesurfing spot.
Book with us to get FREE Kitebeach Access.
Kite Cruises in the Grenadines
Union Island is located in the heart of the Grenadines.
Stay on Union island in our partner Hotel and discover the neighbor islands by joining one of our Kite Safari tour.
See what our customers have to say about us:
Check our Review Page to see what our customers have to say about their experience. (Actual Trip Advisor reviews)
Crystal blue waters, great instructors, excellent boat support… how could you not have an amazing time here.
Butter was my instructor and he advanced my kiting tremendously.
Professional kite school, wonderful vibe … I'll definitely be back!!!
They have this advertisement "learn to kite in 4 hours" I thought it was a joke until i tried… Of course i didn't master it, but i got up shortly and it made me want more
Jeromy is a great teacher. And they have a boat that follows you around and take you back when you have been drifting to far away. Makes it very safe, and you only have to look at the kite.
Myself and two other friends found this hidden kite surfers paradise on Instagram and took the risk and traveled all the way from Kuwait to Union Island and it was worth all the traveling hours!
The center is amazing, Jeremie and Zoe are super kind, the kite spots are beyond beautiful and the weather is just perfect all the time! Jeremie is very helpful instructor and all the equipments are new! Highly recommended!