Jobs
The JT Pro center Kiteboarding school is hiring a male or female kiteboarding instructor, fitting the description below to start working for us for the upcoming 6 months season Starting December 1st
Founded by pro kiteboarder 
Jeremie Tronet
 our school is located on Union Island in the south Caribbean.
This is an amazing opportunity for everyone looking for a new kiteboarding paradise.
We are looking for serious applicants, motivated, outgoing, extremely patient with students and with good adaptation skills and experience in teaching.
You must also be ready to teach according to the JT Pro Center standards.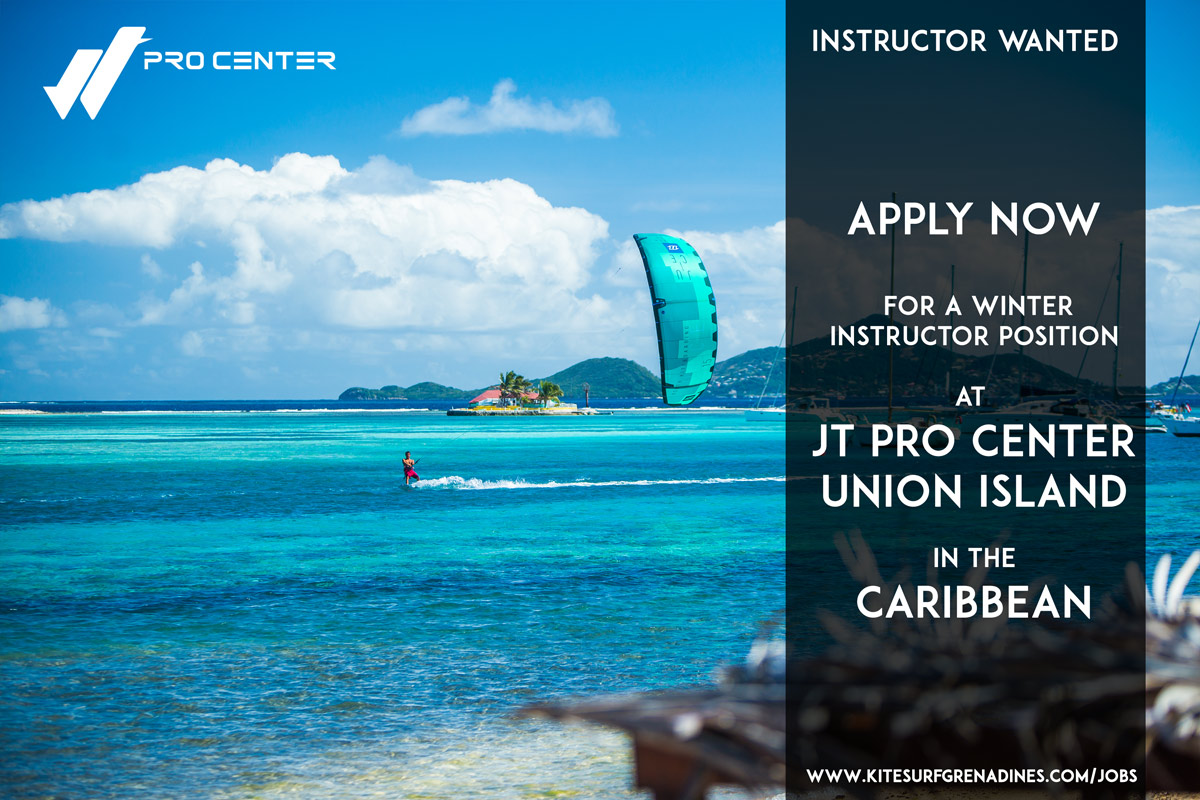 Kiteboarding instructor wanted
2 to 4 INSTRUCTOR POSITIONS AVAILABLE FOR THE 2017- 2018 Winter season starting December 2017
Working in St Vincent and the Grenadines require a work permit which will be purchased by the kiteboarding school for the instructor.
What we want from you:
Past experience in teaching, IKO or any other national certification are welcome.
Fluent in English, oral and written (preferably a native English speaker), other languages is a plus, but not a requirement.
Outgoing personality, always smiling, social, respectful, …
Patient
Good adaptation qualities
Ready to teach according to the JT Pro Center standards.
Can drive a boat, or willing to learn ( no official certification needed).
Valid first aid certificate
Experience with kite repair is a plus.
Surf and SUP skills is a plus.
Willing to commit to staying 4  months on the island.
Willing to sleep in the Kiteschool as free accommodation.
What we can offer you:
An hourly wage when giving kite lessons.
Free accommodation.
Perfect conditions for teaching.
Time to kite on one of the best kite spots in the world.
Flat, warm, crystal clear water, consistent winds, an amazing view from your work place, the spectacular lagoons of Union Island.
An amazing playground for surfing, kiting and fishing.
A friendly working environment with like-minded colleagues.
All applicants must provide:
Name, surname, age, nationality.
Portrait photo.
CV with past experience and certifications.
What makes you a good instructor?
What make you the ideal candidate for this job?
_________________________________________________________________________________________
Living expenses:
As a JT Pro Center instructor, your accommodation will be taken care off (as well as electricity and water bills).
Eating out  on Union island can cost as low as: 5us$ (4 euro) for a simple very nice and tasty meal including drinks.
A beer cost 1.85 us$ – (1.43 euro) out in the bars.
A pizza cost 13 us$ – (10 euro) in average.
Most of the grocery shopping can be more pricey depending on what you want  to buy.
The island is small you will not need to rent a car or pay any taxi fare to go from home to work/kite/town.
How to Get to Union Island:
The easiest way is:
Fly to Barbados (you can find cheap charter flights from the US or UK or other European countries).
Once in Barbados you will have to take a quick 1 hour flight to Union island which cost 200 USD per way including taxes.
If you do not mind spending more time but less money,
 Fly to any of the Caribbean islands and then fly to the island of St Vincent with www.liatairline.com
Once in St Vincent, you can fly to Union island for 50 USD or take the fast ferry.
APPLY NOW