Kite & surf SPOTS


KITE AND SURF SPOTS



CLIFTON – UNION ISLAND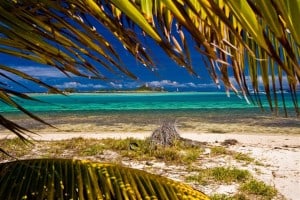 Our JT Pro Center kiteschool is located on the main beach of Union Island.
The spot is a lagoon of amazing colours with flat water, protected by a reef where nice waves breaks for experienced kiters. To kite on your own on this spot you need to be a confident rider/ go upwind consistently. This is not a good spot for beginners unless they use our rescue services/boat.
The beach is situated only a couple of hundred meters from the rooms of our Kitebeach hotel, have a look at our accommodation page. If you are staying on Palm Island, we can pick you up every day and bring you to the kite spot or you can use their daily shuttle service.
If the wind is low, the little airport wave breaking just in front of the club is perfect for surfing or using our SUP boards, but be careful with the shallow reef.

The main Kite beach is private but we welcome anyone interested to Kite here in exchange of a small fee allowing you the use of air compressor, lounge area and WIFI Access.
The Beach access is FREE to all of our Hotel customers.
To kite on your own on Kitebeach you must be able to Ride comfortably up-wind and have a good kite control.
If you are unable to Kite upwind you can take lessons with our school or we can direct you to other spots where you can practice safer on your own.
The JT Pro Center kite spot on Kite Beach Union island has several navigation rules everyone should respect.
 KITE BEACH ACCESS
-If you are already a Kitesurfer and would like to kite on our spot you must pay a beach access fee of 25 EC$ per Day or 10 US$.
This will give you access to our air compressor, Lounge bar area, Wifi and safety rescue when our boat is available. Weekly and Monthly rates are available.
-Hotel guests who booked their stay through us via www.kitesurfgrenadines.com do not have to pay the Kite Beach access.

FRIGATE – UNION ISLAND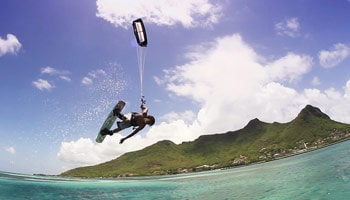 Frigate is a flatwater spot located in Ashton, the other village on Union Island. The wind is blowing offshore over a walkway, created when the construction of a Marina started. The construction is now abandoned, but it created an amazing playground for kiters.
The spot is easiest accessed by boat, and a boat is needed for safety since the wind is offshore and the next spot is South America…
It takes only 10 minutes by boat to go to Frigate.
BIG SAND – UNION ISLAND
Big sand is the best spot to kite in the waves on Union Island.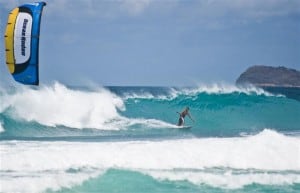 A wide beach of white sand, with blue waves of varying size depending on the swell.
The wind is sideshore and the waves are easy. On no wind days Big Sand is a good spot to learn surfing. Ask us about surf lessons/board rental. This spot works best on North East winds.
MAYREAU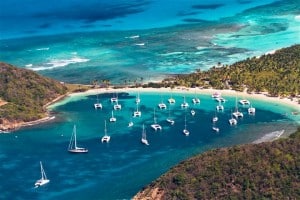 Mayreau is a neighbouring island located just a short boat ride from Union Island.
The spot is called Salt Whistle Bay and is a favored anchor spot among sailors visiting The Grenadines. A thin sand spit is separating the bay where the boats anchors from the kite spot. This makes it an excellent spot to bring non kiting friends and partners; they can relax in the calm bay protected from the wind, while you kite on the other side, just 10 meters away.
The bay where we kite is protected by a reef, and has waves on the outside, and small kickers to play with on the inside. Sometimes when there are fewer sailboats, experienced riders can also ride in Salt Whistle Bay on the flatwater section.
The JT Pro Center offers day tours to Mayreau.


THE TOBAGO CAYS
is a neighbouring island located just a short boat ride from Union Island.
The Tobago Cays experience is obligatory when visiting the Grenadines. Here you are guaranteed to see big leatherback turtles when snorkeling, in addition to a rich sea life, beautiful fish of all colours and sizes, and majestic rays floating by.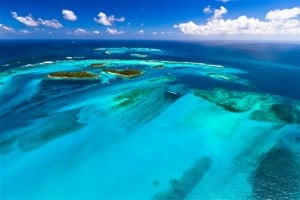 To kitesurf in the Tobago Cays is an amazing experience: it is a beautiful, huge lagoon of the clearest shades of blue.

A great way to go back to Union is to go downwind by your kite (only with a boat following you of course).

Remember: Kiteboarding in the Cays is restricted, and it is important to respect the launch zones and rules. The rangers are there every day, making sure the rules are followed.

MORPION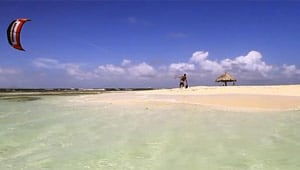 Nothing is quite like Morpion. A small island of sand in the middle of the sea, surrounded by protective reef.
A lonely umbrella provides the only shadow on Morpion. The spot isn't the best, the shallow reefs can be pretty dangerous, but everyone must see this sandy island once in their life.
It is a great place to start a downwinder to Frigate.
PALM ISLAND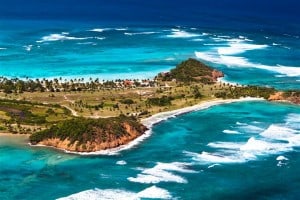 Kite like a millionaire on Palm Island!
This private island has some of the best wave spots of the Grenadines on the reef surrounding it. The launching can be tricky and the lagoon is a little choppy for freestyle.
The best way is to launch from Union Island while our boat follow you and assist you while you ride the waves around Palm Island.