Restaurants & Night life
 U nion Island has a wide choice of restaurants, whether you're looking for a quick lunch or a romantic lobster dinner. Here we have listed all the restaurants we know on Union Island. If you feel there is one missing, don't hesitate to send us a photo and a description of the place.
The night life on Union isn't huge, but it has a special Caribbean vibe. What better way to end your day than with a rum and coke or beer listening to reggae tunes and looking at the sunset…
Remember that it is Forbidden for anyone to serve Lobster from May 15th to 31 August. To help maintain this always refuse any Lobster offered during these months.
BREAKFAST – BRUNCH – LUNCH – DINNER – BAR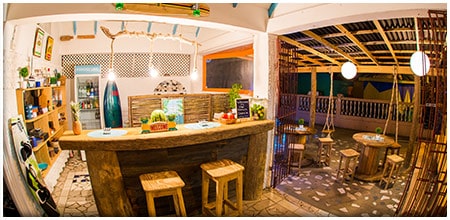 THE SNACK SHACK
The Snack Shack is the newly open snack bar on Union island.
Built with the use of recycled material found on Union Island, it is a little treasure of inspiration for diy projects.
It is the perfect hangout place from early morning to late night to enjoy one of the best Panini sandwiches you will ever have, excellent breakfast, the best Ice cream in town or some of the local freshly cut fruit juices.
It is also a convenient place to check your emails with the free WIFI internet connection.
The Snack Shack street parties are not to be missed every Saturday night with live music entertainment.
RESTAURANTS
FAST FOOD – SNACK
BARS
NIGHT CLUB
BIG SHIP
The Big Ship Night Club is open almost every night and plays lots of Caribbean reggae, dancehall and soca music as well as a dance music, rnb, pop etc. It is where you want to end the night and learn how to wine local style!
It is located in front of the Bank on Union island.