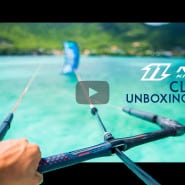 Unboxing Video Review of The North Kiteboarding Click bar
North kiteboarding recently came up with one of the most innovative Kitesurfing bar on the market today.
You can now trim your kite by changing the length of your backlines instead of your front line which allow for a lot of new possibilities.
Here at the JT Pro Center as full time partner with North kiteboarding through Jeremie Tronet we have had the chance to test it and recently film an unboxing video of this bar.
We have one of the bar available for test here at the JT Pro Center Kiteschool so do not hesitate to ask us if you want to give it a try.