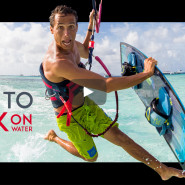 New Video – How To Walk on Water – Learn the Jesus Walk Kitesurfing Trick with Jeremie Tronet
The Jesus Walk (AKA The Jesus Style) is Jeremie Tronet's own signature trick he came up with a little over 12 years ago on the island of Martinique in the Caribbean.
This is one of the most fun Kiteboarding trick to do if you want to have fun and impress everyone watching you on the water.
Together with Jeremie, our team of instructors offer advanced Kiteboarding lessons for whoever want to learn new tricks or improve their Kitesurfing level from your first jump to the most advanced handle pass.
Check out Jeremie's latest video giving you an in depth tutorial on how to land the Jesus Walk AKA Jesus Style Kiteboarding trick: