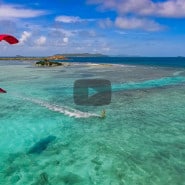 Learn to Kitesurf with the North Kiteboarding Academy
After working together with North Kiteboarding International we are very proud to announce the JT Pro Center was chosen to be the spot featured in the North Kiteboarding Academy.
The JT Pro Center is the perfect spot to learn new tricks and learn how to kitesurf safely in the most beautiful surroundings in the Caribbean.
The first batch of videos of the North Kiteboarding Academy will be a series of tutorial and How to videos featuring Jeremie Tronet teaching you basic beginner tricks to advanced unhooked moves and Foil riding entirely shot at the JT Pro Center Kitespot: www.kitesurfgrenadines.com.
Release Date of the first videos will be October 18th.
The videos will be available for FREE online on the North Kiteboarding website as well as on The North Kiteboarding Youtube channel and on the Free North Kiteboarding App where you will be able to download each video for offline playback on your favorite spot.
Go and download the app to be the first one to get the videos once they are out on October 18th.
Iphone: https://itunes.apple.com/us/app/north-kiteboarding/id914918034?mt=8
Android: https://play.google.com/store/apps/details?id=com.boardsandmore.northkiteboarding&hl=de