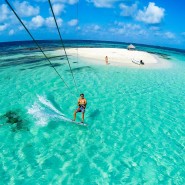 Kitesurf Holidays in June

Very few people know about this, but Union Island and the Grenadines is one of the best place to be in the world to Kitesurf in June.
The month of June is one of the windiest month in the Caribbean.
The wind season usually starts around the 15th of December and is at it's best all the way through the end of June.
Coming to Kitesurf at this time of the year means lower rates on the kitebeach hotel, fewer people on the water and a tonne of wind.
So next time you are looking for a great Kitesurfing destination in June to Kitesurf you should consider Union Island and the JT Pro Center in the Caribbean.
Wind Season
Month of Wind
Chance
of Wind
Average Wind
High Wind Season
15th of December to 15th of March
98%
18 – 25+ knots
Wind season
15th of March to 1st of June
90%
18 – 20 knots
Wind Season
1st of June to 1st of July
98%
20 knots
Light wind season
1st of July to 31st of July
50%
13-15 knots
Low wind season
1st of August to 15th of November
25%
10-15 knots
Light Wind Season
15th of November to 15th of December
40%
12-15 knots