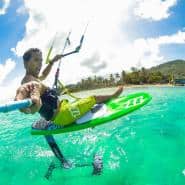 Kite Foiling in the Grenadines
Just over a month ago, I was lucky enough to get one of the first North Kiteboarding Foil Ltd boards while shooting with the North Kiteboarding team here in the Grenadines.
After a little bit of practice I decided to make a video featuring this foil at our beautiful JT Pro Center Spot on Union Island in St Vincent and the Grenadines.
In this short three minute video, I wanted to share with you guys the amazing feeling a foil can give and hopefully convince anyone watching it to give it a try and maybe come at JT Pro Center to take Foil lessons and try out the North Hydrofoil.
More info on the spot where this video was filmed:
www.kitesurfgrenadines.com
More info on the North Kiteboarding Foil Ltd:
https://www.northkiteboarding.com/products/boards/foil/foil-ltd/
Music by Monkey Safari – Sirens (Mollono .Bass Remix)
soundcloud.com/monkeysafari