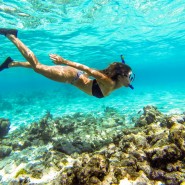 Diving in the Grenadines
When you decide to fly to a new destination, it is always interesting to know what there is to do besides Kitesurfing.
It can be for your non-kiting partner or for you, if you're wanting to discover the other aspects of a place or simply to do something else when your body gets too tired after endless kite sessions.
We have listed all the possible activities and attractions Union island has to offer on our activity page.
Diving is one of them and as beautiful as the Grenadines are above the water, you will find that what's going on under water is just as impressive ! It is always interesting to try something different and go check out what's happening under our boards…
Whether you plan on going snorkeling over the coral reef, do a beginner scuba dive, a full certification or use your past experience as a diver to go and explore new dive sites, the Grenadines and Union Island has several options and dive shops to get you under water to the best spots.
Bequia, Canouan, Mustique and PSV all have dive shops on the islands as well as Union Island.
The dive shop "Grenadines Dive" on Union Island is located very close to the Kitesurfing Center in Clifton.
You can contact them directly to organize a dive to the Tobago Cays or to one of their unique dive spots.
Our kitesurfing centre organizes snorkeling trips around the island during the low season for our hotel and Kitesurfing guests.
A couple of days ago we found the location of a new shipwreck, only a 10min boat ride from Union Island in shallow water where you can see it snorkeling.
During one of our Full Day Kite Tours, we offer the great experience of swimming with the turtles in the Tobago Cays between two Kite sessions.
You can find out more about our Day Tours on our Kite Day Tour page.