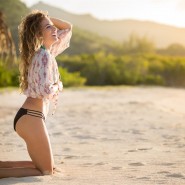 A Caribbean Kite Girl
Zoe grew up on Union Island but didn't get into Kiteboarding until last year when she decided to come back to the sunny islands having been in England for some time.
Like most people growing up in the Caribbean, there is a time when you have to unfortunately leave your little paradise to follow your studies or work over seas.
Spending time in a big city like London opened up her eyes to just how lucky she is to have grown up on such an amazing island and decided to come back to her childhood home.
She is now enjoying every aspect of this beautiful island and the great spot JT Pro Center has to offer by being one of the managers of our Kitesurfing Center.
Have a look at her latest quick video we have filmed for "Cheeky and Coco" Surf Wear Brand, all shot at the JT Pro Center on Unuin Island: